The year 2019 has been a challenging year for many industries, including apparel and fashion. With continuous change in market trends, the industry faced many shifts in consumer behavior, technology, and sustainability.
After witnessing a downfall for the last two years, the industry has shown an impressive growth of 3.5 percent to 4.5 percent, according to a survey by McKinsey.
The textile market size is projected to reach $12.9 billion by 2022. Click to Tweet
The growth of the textile market is attributed to the increasing demand for apparel in the developing economies – India, China, Bangladesh, and Mexico. And the market drivers are – growing population, rise in disposable income, rapid urbanization, and an increase in numbers of supermarkets and retail stores.
Apparently, the industry is growing with years over years.
But growth is not as smooth as it might sound. The industry faced many challenges across the globe. Here we've summarized big battles of the apparel and fashion industry in the year 2019.
Self-Disruption
Fashion brands are continuously being disruptive, and that's a key secret of success. In 2019, self-disruption is the most identified trend by fashion executives that are shaping the entire industry.
Brands are bringing fresh perspectives and ideas to their business models, supply chain, distribution channels, brand image, and products. They are adopting drop strategies to release new small collection more frequently instead of upholding the traditions fashion calendar. They are focusing on what their customers are demanding today, not tomorrow.
Fashion brands are actively participating in social issues, ultra-transparency, and sustainability by self-disrupting their own identity.
Trade Tension
In year 2019, the global trade market witnessed war-after-war. Either we talk about the US-China war or RCEP trade deal. The fashion industry has been quite sensitive about politics and policies.
The fashion industry's supply chains have undergone many shifts even before the US-Chain trade tension. The textile market players were already moving to other lower-cost ASIAN countries because of the increasing production cost in China. Trade tension between the US and other big economies increased the production costs of other market players.
Textile market players are moving towards a dynamic global fashion supply chain to maintain competitiveness in the global market.
Read more on US-China Trade War: Impact on Textile And Apparel Sector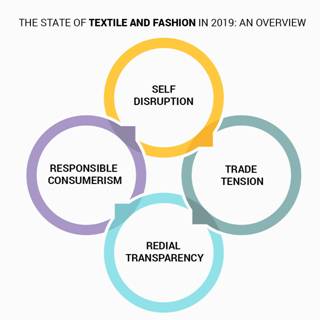 Radical Transparency
The textile and fashion industry has always suffered a trust deficit due to the lack of transparency throughout the supply chain. Consumers are shifting toward more transparent brands.
In the year 2019, many brands are embracing technologies such as Blockchain to build their consumers on transparency and trust. The technology allows each node of the network to keep an eye on the entire history of the transaction. This way, fashion players are boosting transparency in the supply chain.
Finally, fashion brands are more likely to be transparent with their consumers in the event of a crisis. They respond more quickly, and they admit when they go wrong and willing to apologize.
Responsible Consumerism
The mainstream of the year 2019 was "Responsible Consumerism." E-commerce has made shopping easier than ever, and consumers are getting more power than ever. They have the power to make responsible choices.
Consumers are getting more serious about social issues and environmental concerns. They are giving more importance to equality, fair labor, sustainable resourcing, and circularity. 66 percent of consumers are willing to pay more for sustainable fashion, according to a report by McKinsey.
Brands and retailers are emphasizing more on their consumer's demands and choices. They are shifting to circular business models from a linear business model as consumers are demanding transparency. They want to know how their favorite brands are contributing to pressing social issues and environmental concerns.
What's Next?
The fashion industry has shown immense growth in the year 2019. Even after the effects of the trade war between big economies, the industry is all set to grow in technology and sustainability. Brands are embracing the self-disruption business model, while consumers are continuously chasing ethical and fair fashion.
The fashion industry will continue to grow at 3 to 4 percent in 2020. The growth rate is slightly slower than the growth rate of the year 2019, according to McKinsey.
Learn more about current industry updates and trends on data intelligence tool TexPro.